Mexia native and Arizona Cardinals left tackle, KELVIN BEACHUM, is returning home to host his 6th Annual Kelvin Beachum Community Day. The impactful day will begin with a series of football and skills competitions and will culminate in a large-scale food distribution for 3000+ families!
<ahref="http: kelvinbeachum.com="" camp-photos="" "="">Check out photos from our previous camps.</ahref="http:>
REGISTRATION IS NOW CLOSED
---
When: May 18, 2019
Where: Mexia High School – 1120 N. Ross Ave Mexia, TX 76667
Kelvin Beachum's 6th Annual Community Day highlights include:
9:00am – 11:30am – Flag Tag Tournament – People of all ages will compete in several heats of flag tag at the Mexia High School Stadium. Anyone older than 6 can participate, including adults. Winners of each heat will receive prizes. Food provided for all participants.
11:45am – 12:45pm – Offensive Line Competition – Kelvin will welcome offensive linemen ONLY, grades 6-12, and put them through a series of skills challenges to find out who the best offensive lineman is in Central Texas. Winner will receive a football prize pack!
1:00pm – 4:00pm – Food Distribution – Beachum is sponsoring a large-scale food distribution to feed at least 3000 families facing food insecurity in Limestone, Freestone and McLennan counties. With the help of the Central Texas Food Bank and H-E-B Cares, the food distribution begins at 1pm at Mexia High School. Those in need will drive thru to collect a box of food for their household that includes proteins, fresh produce and other items. Volunteers will collect name and address as food is loaded into the vehicles.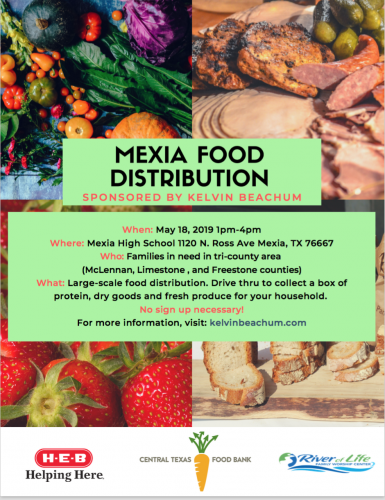 ---
Sponsors

---
NO PRE-REGISTRATION NECESSARY. LINES SHOULD BE EXPECTED, BUT THEY WILL MOVE QUICKLY!
To register for flag tag, offensive line challenge, or football skills event volunteering, click here!
To participate in the food distribution, all you need to do is show up at Mexia High School at 1pmCT!
Please email kelvinbeachumcamp@gmail.com with questions or for more information.